«Kavringen lighthouse» in the inner part of the Oslofjord.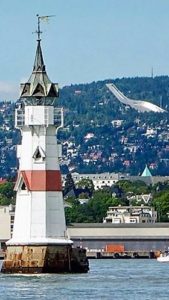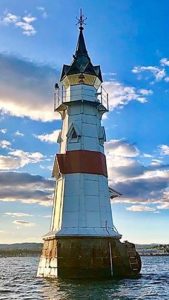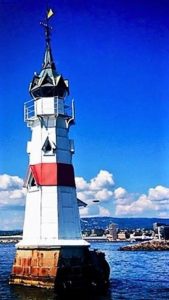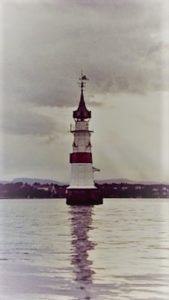 Kavringen lighthouse from 1892
Kavringen Lighthouse the Time Capsule. Until 1892 there were only two lighthouses in Oslo harbor Heggholmen and Dyna. When the steamship DS «Norway» hit the Kavringen islet in 1890, a requirement for better lighting was raised. The construction work at the Kavringen Lighthouse began in April 1891, and the lighthouse was completed and commissioned on August 1, 1892. In 1932 they changed from gas to electric power.
Time Capsule
In connection with the 1000th anniversary of Oslo, everyone in Oslo was given the opportunity to submit their greetings to the future. This was greetings in the form of letters, cards and miscellaneous items to be stored for 1000 years inside a container. The container, or the time cap as it was named, is made of a special material. The contents were gassed and sterilized to last for 1000 years. The entire time capsule is stored inside the Kavringen lighthouse, and every year on May 15, everyone can join to ensure that the time capsule is in place. On St. Hallvard's day, May 15, 2000 the time capsule of titanium was bolted into the lighthouse. The cover is designed as a copy of the lighthouse. It can only be opened in the year 3000.
St. Hallvard is the patron of Oslo.
Seabird colony
On the inlet next to the Lighthouse there is an exceptionally rich seabird colony and the islet is therefore protected as a seabird reserve. Often when on a sightseeing boat, one can spot a seal sunbathing here. From 15 April to 15 July there is a ban on traffic on the island.
Lighthouse facts
The Kavringen Lighthouse was built in 1892 and is located on Søndre Kavringdynge in the western entrance to Oslo harbor. The foundation of the Kavringen lighthouse consists of an octagonal concrete block that is cast directly on mountains (depth -3.25m), and an overflow wall of chopped granite. It was originally red painted, but is today white with a red belt. The tower's height even the spear point is 19 meters.